| | | |
| --- | --- | --- |
| | Sollae CSE-H53- Serial to Ethernet Converter - Overview | |
CSE-H53 is a product for manufacturers who want to quickly and easily add Ethernet connectivity in their system. This compact product helps the RS232 system get network connectivity with just serial connection at a reasonable price. Applying this product, not only you can reduce cost and risk, but also you can shorten development time to add the network capability. Because the CSE-H53 allows you to extend the distance of your serial communication system, you are able to remotely control and monitor the serial devices over the Internet anywhere you are.
| | |
| --- | --- |
| | Highlights |
RS232 to Ethernet Converter
Compact size : 87mm x 57mm x 24mm
10/100Base-T Ethernet, auto MDI/MDIX
1 x RS232 (D-SUB 9pin Male, up to 230.4Kbps)
Wide range of operating temperature (-40℃~+85℃, meet the industrial temperature range)
Variety of monitoring status (debugging mode, ezManager, Telnet)
Flexible configuration and network communication by 'AT Commands' (patent)
4 Communication modes (TCP server, TCP client, AT Command and UDP)
DHCP and PPPoE
DNS (easy access using domain name)
DDNS (dynamic IP address management by domain name)
IP Change Notification for dynamic IP address management (TCP, UDP and DDNS)
Telnet COM Port Control Option (RFC 2217)
Firmware upgrade through Network
Powerful management software for Windows OS (ezManager)
Virtual COM Port Redirector for Windows OS (ezVSP)
Environmentally-friendly RoHS compliant
| | |
| --- | --- |
| | Converter Features |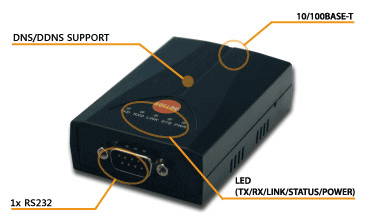 Product Versions
This product is available either as just the converter (no power supply or RS232 cables) or with power supply and RS232 cable. See product versions below.
Sollae CSE-H53 - Serial to Ethernet Converter


CSE-H53 is a product for manufacturers who want to quickly and easily add Ethernet connectivity in their system. This compact product helps your RS232 system get network connectivity with just serial connection at a reasonable price.




| | |
| --- | --- |
| Quantity | Price (GBP) [Excl. VAT] |
| 1 - 9 | |
| 10 and above | |


Availability:
0 in stock
7 days delivery

Sollae CSE-H53 - Serial to Ethernet Converter (Kit)


CSE-H53 is a product for manufacturers who want to quickly and easily add Ethernet connectivity in their system. This compact product helps your RS232 system get network connectivity with just serial connection at a reasonable price. The CSE-H53-KIT includes the converter, 9-way serial cable and +5V universal power supply.




| | |
| --- | --- |
| Quantity | Price (GBP) [Excl. VAT] |
| 1 - 9 | |
| 10 and above | |


Availability:
0 in stock
7 days delivery

Sollae CSE-H53N - Industrial RS232 to Ethernet Converter


The CSE-H53N is an industrial RS232 to Ethernet converter that supports IPv6 addressing architecture as well as IPv4.




| | |
| --- | --- |
| Quantity | Price (GBP) [Excl. VAT] |
| 1 - 9 | |
| 10 and above | |

Sollae CSE-H53N-KIT - Serial to Ethernet Converter (Kit)


The CSE-H53N is an industrial RS232 to Ethernet converter that supports IPv6 addressing architecture as well as IPv4.




| | |
| --- | --- |
| Quantity | Price (GBP) [Excl. VAT] |
| 1 - 9 | |
| 10 and above | |