| | | |
| --- | --- | --- |
| | RS232 to RS-485 - Isolated Communications Converter Module | |
The RS-232 to RS-485 Convertor module converts RS-232 levels from a PC COM port to RS-485 levels suitable for interfacing with the Equinox PPM3-MK2 and PPM4-MK1 Production ISP programmers. The module provides an optical isolation barrier between the PC COM port and the RS-485 bus which serves to protect the PC from ESD damage.

The RS-485 Convertor is primarily designed to allow networking of 2 or more Programmer Modules from one PC. This is achieved by daisychaining programmers on the RS-485 bus. Each programmer must be given a unique 'Node Address' on the bus so that the PC software can communicate with it.
| | |
| --- | --- |
| | Main Features |
Converts serial RS-232 signals from e.g. a PC COM port to serial RS-485 signals
Opto-isolated barrier between RS-232 and RS-485 signals
Connects to PC via 9-way serial D-connector
RS-485 devices connect to covertor via RJ11 plug-in connectors
Supports daisychaining of Equinox PPM-MK2 and PPM4-MK1 programmers
Traffic-light Status LEDs indicates Transmitted and Received data
RS-485 line driver can be enabled / disabled via PC hand-shaking line
| | |
| --- | --- |
| | Networking of programmers |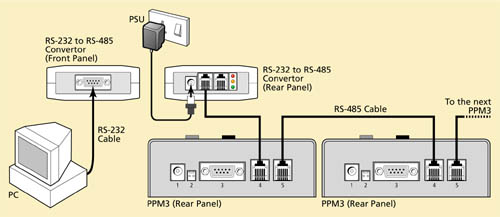 Up to 16 Programming Modules can be daisy-chained from a single PC via the Equinox RS-485 Programmer Bus
Each Programming Module must be assigned a unique 'Node Address' via a DIP-Switch on each module
Equinox 'ISP-PRO - Production ISP Software' is required to control more than 1 programmer on the network
| | |
| --- | --- |
| | Status LEDs |
The Convertor features 3 Status LEDs which indicate whether data is currently being transmitted as follows:
RED - RS485 TRANSMIT driver is ENABLED (via RS232 handshaking line)
GREEN - PC is tranmitting data via RS232 to the RS485 convertor
YELLOW - Data is being transmitted from an RS485 device, through the convertor and will be converted to RS232 levels
Isolated RS232 to RS485 Convertor (Universal Power Supply)


RS232 to RS-485 Converter Module for use with Equinox PPM3-MK2 and PPM4-MK1 Programmers. Includes Mains Power Supply Adaptor (Input: 110-240 V AC @ 50/60Hz , Output: 9V DC reg. @ 1.5A) , RS485 Cables and PC Serial Cable.




| | |
| --- | --- |
| Quantity | Price (GBP) [Excl. VAT] |
| 1 and above | |


Availability:
0 in stock
10 days delivery