| | | |
| --- | --- | --- |
| | Elprotronic GangPro-ARM(X2S) | |
Gang Programmer for all ARM MCUs supported by Elprotronic Inc. (XStreamPro-Iso 1.0).
Do you need a Socket Board?
Check out: QFP-144, QFP-100, QFP-80, QFP-64, QFP-48, QFP-32, QFN-64, QFN-48, QFN-32.
| | |
| --- | --- |
| | GangPro-CC(XS) Features |
Supports Joint Test Action Group (JTAG, cJTAG), and Serial-Wire-Debug (SWD) communication.
Programmable JTAG/SWD clock up to 20 MHz, effective throughput up to 1 MBytes/s.
Galvanic isolation between PC and targets.
Current measurement from 0.02 to 500 mA.
Programs MCUs from Texas Instruments, ST Microelectronics, Silicon Labs, Active-Semi, Freescale, and Atmel (See MCU list below).
Fast MSP430 Flash ProgrammerSix (6) MCUs can be programmed simultaneously using one programmer.
Fast MSP430 Flash ProgrammerUp to 64 programmers can be connected over USB to one PC running Windows(TM) ME, 2000, XP, 7, 8, 10.
Fast MSP430 Flash ProgrammerEasy to use GUI allows the user to configure all necessary options with ease.
Fast MSP430 Flash ProgrammerExtensive Memory options including select erase, program, verify. Select flash data can be retained across programming sequences.
Fast MSP430 Flash ProgrammerSupports full/segment erase, blank check, write and verify of code using one Auto Program function or separate functions for easy customization.
Fast MSP430 Flash ProgrammerThis product provides the full functionality of the GangPro-ARM-TI(XS), GangPro-ARM-STM(XS), GangPro-ARM-SL(XS), GangPro-ARM-FS(XS), and GangPro-ARM-AT(XS).
Fast MSP430 Flash ProgrammerDLL and Command-Line support.
Fast MSP430 Flash ProgrammerC++ and C# code examples provided.
Fast MSP430 Flash ProgrammerFCC and CE certified.
| | |
| --- | --- |
| | GangPro-CC(XS) Pictures |
| | |
| --- | --- |
| | Package contains: |
XStream-Iso 1.0 programming adapter
USB cable
FPA to ARM 14-pin to 20-pin adapter and ribbon cable
FPA to CC-Debug 14-pin to 10-pin adapter and ribbon cable
GangPro-CC GangSplitter for six (6) MCUs (SOLD SEPARATELY)
Software for adapter available for download from Product Data
One Year Warranty (see Product Data)
Elprotronic GangPro-ARM(X2S)


GangPro-CC(XS) XS-GP-CC Gang Programmer for Texas Instruments Chipcon MCUs (debug port) (XStream-Iso 1.0).




| | |
| --- | --- |
| Quantity | Price (GBP) [Excl. VAT] |
| 1 and above | 604.50 |


Availability:
0 in stock
7 days delivery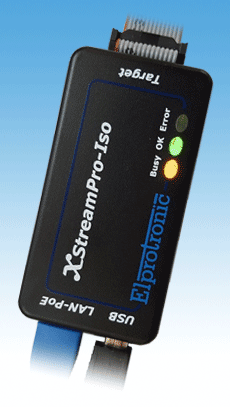 Product Information
Elprotronic GangPro-ARM(X2S)
Elprotronic Inc.
ELP-X2S-GP-ARM
0 in stock
7 days delivery

604.50 (GBP)


[Excl. VAT]