| | | |
| --- | --- | --- |
| | MCB900 Starter Kit for the Philips P89LPC932 8051 Microcontroller | |
The MCB900 is a comprehensive low-cost Starter System for the Philips P89LPC932 FLASH 8051 Microcontroller. The kit contains a featured-packed Evaluation Module fitted with a P89LPC932 microcontroller plus a special version of the µVISION2 8051 C development environment which only supports the Philips LPC devices. The IDE supports editing / compiling / simulating up to 4Kb of code (C + Assembler) for the LPC devices. A suite of suitable example programs are supplied with the software which can be compiled and then downloaded via ISP (In-System Programming) to the Target Device using the 'FLASH Magic' ISP software. Once a program is downloaded, the MCB900 can then be run without PC control and becomes a 'Standalone Microcontroller Module'.
This kit is designed for evaluating the Philips LPC family of microcontrollers. It encompasses the 8051 architecture plus the ability to write programs in C and download them to a real microcontroller mounted on a Target Board. This makes the Keil MCB900 kit ideal for low-budget high-specification designs and is therefore ideally suited to student projects.
| | |
| --- | --- |
| | MCB900 Evaluation Board |
Philips P89LP932 Microcontroller mounted in PLCC socket
LED array on Port 2
Prototyping area for user circuitry
RS-232 Port for ISP, debug and/or user application use
On-board power supply (9V unregulated input)
| | |
| --- | --- |
| | LPC900 Development Studio |
Feature-packed source code Editor, Project Manager and Make Utility
8051 Assembler
8051 ANSI-C Compiler
Software Simulator
ISD51 - In-System Debugger
Application Examples for the LPC family
All components of the Keil IDE are limited to a maximum of 4Kb of compiled code. No hardware support is available for multiple DPTR registers. No support is available for user libraries or floating point arithmetic.
| | |
| --- | --- |
| | FLASHMagic ISP Software |
Software Utility supporting In-System Programming (ISP) of Philips ISP devices
Supports downloading of HEX file output of the Keil IDE to the FLASH / EEPROM of the Target Microcontroller
Uses the Philips LPC Boot Loader method of ISP via the UART of the Target Device
Required spare PC COM port to be connected to the COM port of the MCB900 Module
| | |
| --- | --- |
| | System Requirements |
PC with one available serial (COM) port
Windows 95/98/ME/NT/2000/XP
One 3½-inch, 1.44MB disk drive
One CD-ROM drive
Please note: A suitable serial cable and power supply are NOT supplied with this kit.
| | | |
| --- | --- | --- |
| | Device Support (by family) | |
This product supports devices from the families listed below:
NXP (Philips):
8051 LPC (Low Pin Count) Microcontroller Family
The MCB900 prototyping board uses the Philips P89LPC932 which is a superset of the Philips P89LPC920, P89LPC921, P89LPC922, P89LPC930 & P89LPC931 devices. You may create application programs for these devices by ignoring the extra features of the LPC932.
| | | |
| --- | --- | --- |
| | Device Support (by manufacturer / programming algorithm) | |
Philips Semiconductor
BL - Boot Loader Algorithm:
8051 LPC (Low Pin Count) Microcontroller Family:
P89LPC920

, P89LPC922

, P89LPC930

, P89LPC931

, P89LPC932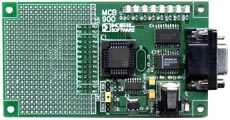 Product Information
MCB900 Starter Kit for the Philips P89LPC932 8051 Microcontroller
Keil Software
KEI-MCB900
1 in stock

56.00 (GBP)


[Excl. VAT]