| | | |
| --- | --- | --- |
| | TRP-C06H - Dual port RS-232 to RS-422/485 Isolated Converter | |
The TRP-C06 supports bi-directional conversion of 2 x RS-232 level signals to RS-422 or RS-485 level signals and can transmit data up to 1.2km.
 
The module features automatic data format and baud rate detection functionality. The user simply plugs in the unit and automatic configuration then takes place.
The TRP-C06 is rated at 3KV DC and features internal surge protection on data lines to protect the host computer and converter against high voltage spikes as well as ground potential differences.
The industry standard DIN rail and panel mounting design provides for quick mounting within a DIN rail panel.
| | |
| --- | --- |
| | Features |
Wide range input DC power supply
Automatic data format configuration
Auto direction flow control on RS-485
Auto baud rate switching from 300bps to 115.2Kbps
3000V DC isolated protection
Surge protection on RS-422/485 data lines
Power/TX/RX mode LED indicator
Support screw terminal and external DC power adaptor
Din rail or panel mounts support
| | |
| --- | --- |
| | Specifications |
Power input voltage: DC +10V to +30V
Host connection: Standard D-Sub 9 pin female connectors
RS-232 interface: Standard D-Sub 9 pin female connector
RS-232 signal: TXD, RXD, and GND
RS-422/485 interface: Industrial plug-in screw terminal
RS-485 signal: differential 2 half-duplex wires (DATA+, DATA-)
RS-422 signal: differential 4 full-duplex wires. (TX+, RX+, TX- , RX-)
Plug-in screw terminal wiring: Accepts AWG #12 ~30 wires
Transmission distance: RS-422/485 up to 4000ft (1200M)Communication speed: from 300bps to 115.2Kbps
Isolation voltage: 3000V DC
Signal LED: Power on, TX, RXA, TXB, RXB
Power supply: Screw terminal, or external DC adapter
Power consumption: 1.3 watt
Operating Temperature:0 to 60℃
Storage Temperature: -20 to 70℃
Humidity: 10-90% Non-condensing
Dimension: 151mm X 75mm X 26mm
Weight: 375g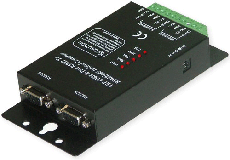 Product Information
TRP-C06H - Dual port RS-232 to RS-422/485 Isolated Converter
Trycom Technology
TRP-C06H
2 in stock

93.86 (GBP)


[Excl. VAT]