Micro Computer Control Corporation develops, manufacturers, and sells Small Area Network products including, computer software programming tools, electronic testing equipment, and electronic components to an international market. Our customers include semiconductor companies (Intel, TI, National Semiconductor, Rockwell International...), computer companies (Apple, Compaq, Dell, NEC...), and electronic equipment manufacturers serving a wide range of industries.
Like the familiar Local Area Network (LAN) used to connect computers within an office or building, a Small Area Network (SAN) is used to connect Integrated Circuit (IC) components on a printed circuit board, or within a box or system. Due to its low cost, flexibility, and space saving characteristics, Small Area Networks provide device control, media security, and health monitoring connectivity in electronic products ranging from cell phones, to PCs, to large computer server system.
MCC's products are used by electronic and software engineers all over the world in developing the next generation of electronic devices.
Please note: If you require items to be delivered within the US, please contact MCC directly.
iPort DLL/USB - Windows to I2C Host Adapter (Universal Power Supply)


iPort DLL/USB brings a software compatible USB upgrade path to current users of the iPort (#MIIC-201) Windows to I2C Host Adapter. Just plug the iPort DLL/USB into a USB port on your Windows 98se or higher based PC, install our Virutal Com Port Driver (VCP), run your custom, or our free, application software, and you'll be sending and receiving I2C messages in seconds.




Discontinued Product

MCC - iPort/AFM 2TM I2C Bus Host Adapter


The iPort/AFM 2 is our latest generation RS-232-based communication tool for the I2C Bus and other derived protocols, and is fully compatible with our ASCII Fast-Mode adapters.




Discontinued Product

MIIC-101 - Portable I2C / SMBus Monitor


The MIIC-101 Bus Monitor is a Stand-Alone and Remote Troubleshooting Tool for the I2C (Inter Integrated Circuit) serial bus developed by Philips Semiconductor, or the System Management Bus (SMBus) developed by Intel, and other derived protocols.



MIIC-202 - iPort/AI - RS-232 to I2C Host Adapter with ASCII Interface


iPort/AI brings I2C directly to any computer with an RS-232 serial port. Just plug iPort/AI into your computer's serial port, and you will be sending and receiving I2C messages in seconds.



MIIC-203 - iPort/AFM RS-232 to I2C Host Adapter with ASCII Fast Mode (Universal PSU)


The MIIC-203 iPort/AFM module brings I2C directly to any computer with an RS-232 serial port. The iPort/AFM into your computer's serial port, and with some simple ASCII text commands allows sending and receiving of I2C messages at up to 400Kbit/s. Supplied with Universal Power Supply suitable for use in the US, UK, Europe and the Far East.




Discontinued Product

MIIC-204 - iPort/USB - USB to I2C Host Adapter with ASCII Fast Mode Interface


The iPort/USB is a I2C Adaptor with USB Interface which works with Windows based Host Computers. It supports both Standard (100Kbps) and Fast (400Kbps) I2C Bus speeds, plus the I2C Interrupt signal and is controlled with a simple ASCII command interface and a Virtual Communications Port that simplifies USB connectivity.



MIIC-207 - i2cStickTM I2C Bus Host Adapter - Overview


The i2cStick is a personal, powerful, and pocket-size I2C Bus host adapter. Just load our free software, plug the i2cStick into a USB port, and you will be sending and receiving I2C messages in seconds.



MIIC-208 - iPort/USB 2TM I2C Bus Host Adapter with Circuit SenseTM


The iPort/USB 2 is our latest commercial/industrial grade communication tool for the I2C Bus and other derived protocols.




Discontinued Product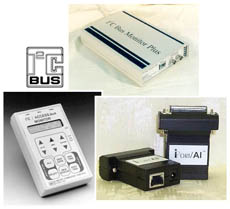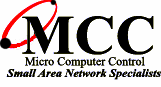 Contact Details
Micro Computer Control Corporation
83 Princeton Ave
#1D Hopewell
New Jersey
08525
USA
Tel: (609) 466-1751
Fax: (609) 466-4116

WebSite: http://www.mcc-us.com