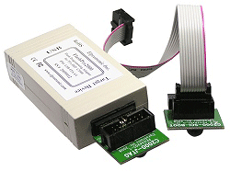 NEW: FlashPro2000 - USB Flash Programmer for TI C2000 Series MCU (TMS320F28xx)
The FlashPro2000 programmer is dedicated to programming the Texas Instruments C2000 DSP family (TMS320F24xx and TMS320F28xx).
Using the FlashPro430 programmer, the target device can be programmed via JTAG Interface (4-wires) or via SCI-BOOT Interface.
Each programmer package consists of a microcontroller based adaptor, WindowsTM based software, cable to connect the adapter with the computer's USB port and two converters with flat ribbon cables - one for JTAG connection (with 14 wires ribbon cable) and the second for the SCI-BOOT connection (with 10 wires ribbon cable).
The communication speed via JTAG is selectable - up to 3Mb/s or 1 Mb/s - and allows use of longer JTAG cables if required - useful in production.
To facilitate high speed communication via SCI-BOOT Interface, a new Fast Boot Loader is temporarily downloaded to RAM of each programmed device, that allows to communicate with the target device with speeds of up to up to 500 kb/s.
To simplify the production process the programming software package can assign serial numbers, model type, and revision. Each serial number is unique for each programmed device and is assigned automatically. Several serial number formats are available.
There are a number of erase/write options also available. This allows to erase/write all flash memory or just the specified fragment of memory. This feature is very useful when only part of programmed data/code should be replaced - for example this feature can be used to download the serial number, calibration data or personality data without losing existing program code.