| | | |
| --- | --- | --- |
| | ED-588 - 1 Port RS232 Ethernet to Serial Adapter | |
Ethernet to DIO device: 8 non-isolated digital input channels and 8 digital output channels. Outputs each group of 4 lines has its own common rail. Powerful ARM 80 MHz, 32 Bit CPU. Offers robust and intelligent 'control side' devices that provide the interface to systems on the 24V factory floor environment, commonly referred to as 'process side'.
The device installs as a COM Port on a Windows PC to give complete backwards compatibility essential for legacy applications. From other platforms and operating systems the device can be controlled over TCP/IP. Additionally Brainboxes supply a suite of APIs and sample code to communicate with the ED device using Microsoft .NET framework, C++, Java, Javascript, PHP and more. The device and be configured and secured from a web browser.
The ED product range is designed for harsh environments. The digital output port line are implemented as protected output circuits, providing current overload and short circuit protection, voltage surge, overload and open circuit protection and over temperature protection to allow the widest possible usage and range of devices.
The outputs are good for driving hot and cold resistive loads, capacitive loads and inductive loads and are especially suited for loads with high inrush currents such as cold bulbs/lamps and motors. Typical applications are control and switching of AC and DC motors, Fans, relay drivers, pumps, Voltage Regulators and Battery Chargers, LEDs and Bulbs, Air Conditioning, Heaters and Solenoids.
| | |
| --- | --- |
| | Main Features |
Ethernet to Digital IO converter module
8 x non-isolated Digital Inputs
8 x non-isolated Digital Outputs
1 x gateway half-duplex RS485 Serial Port
Control any input or output from TTL to high voltage high current industrial devices
Drives high current and high voltage loads
Ideal for inductive, capacitive & resistive loads
Network enable your NuDAM/ADAM modules
Wide Range Redundant Dual Power Input:
-30°C to +80°C Temperature range
Integrated DIN rail mount
| | |
| --- | --- |
| | Product photo |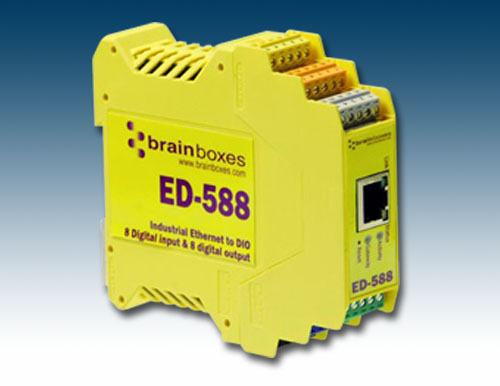 | | |
| --- | --- |
| | Digital Inputs |

Input Channels: 8 non-isolated input channels
NPN/PNP: One jumper configures all inputs as either pull up for NPN, active low,
type sensors or pull down for PNP, active high, type sensors
Logic Level 0: 0V to +1V
Logic Level 1: +3.5V to +30V
Latched Inputs: Triggered by user programmable positive or negative edges, stays true until acknowledged
Counter Inputs: User programmable- counts positive or negative transitions 0-65335
| | |
| --- | --- |
| | Digital Outputs |

Output Channels: 8 non-isolated output channels
Maximum output current: Sinks up to 1 Amp per pin, 40V max load
Max combined load: 4.0 Amps per ED device
Characteristic: Open drain output, protected MosFET intelligent short circuit protection up to 36V
Over temperature shutdown :1750C typical 1500C min
Maximum output load Voltage 40V
ESD Protection: 16kV
| | |
| --- | --- |
| | Ethernet to DIO Device Server |
The Ethernet to Digital IO (DIO) device is implemented using a Windows COM port driver
This COM port driver is completely compatible with all popular PC packages such as LabView, MATLAB and Agilent VEE and
supports a range of popular APIs.
Continue to get value from your existing development and process control system.
| | |
| --- | --- |
| | Gateway RS485 Serial Port |

1 x Half-duplex RS485 port
Supports connection and control of any RS485 compatible equipment
Supports communications with industry standard NuDAM, eDAM and ADAM modules using ASCII protocols.
Tx FIFO Size: 2048
Rx FIFO Size: 2048
Operating Distance: RS422/485 Standard (4000 ft : 1200 metres)
| | |
| --- | --- |
| | Brainboxes' Easy Wire Feature |

Removable high-quality screw terminal blocks make cable installation easier
Colour-coded terminal blocks and ports prevents incorrect connections
Numbered Pins simplifies wiring and helps to remove confusion
| | |
| --- | --- |
| | Wide Range Redundant Dual Power Input |
Power supply input range: +5VDC to +30VDC
Accommodates variation in the +24VDC factory floor and allows alternative power sources.
A second power supply can be fitted as a back-up to prevent down time should one power source fail.
Can use 5 Volt power from any computer USB port via optional accessory cable PW-650 - Useful for configuring the device from a laptop in the field.
| | |
| --- | --- |
| | Grounding |
Correctly wired grounds help cut down on electromagnetic interference
5-pin terminals allow a ground on the 5th pin of each block Functional earth connection to the DIN rail
| | |
| --- | --- |
| | Multi-Platform Software designed for the factory floor |
Designed for Industry Standard Packages
Configure, monitor and control using LabView, MATLAB or Agilent VEE.
Brainboxes Ethernet IO devices can be configured, monitored and controlled using a Windows COM port driver.
The COM port is completely compatible with all popular PC packages such as LabView, MATLAB and Agilent VEE.
Continue to get value from your existing development and process control system.
| | |
| --- | --- |
| | Extended Temperature Range |

Temperature range: -30°C to +80°C
This Extended Temperature operating range copes with changing temperatures for harsh environments found in industrial environments
It is possible to monitor the CPU temperature via the web interface or programmatically using ASCII commands
| | |
| --- | --- |
| | Watchdog feature |
Allows independent known good states to be set for power up and comms link watchdog and hardware watchdog
Programmable time range allows full control.
| | |
| --- | --- |
| | Slim Shape |
Small foot print for when DIN rail space is a premium
Only 22.6mm wide
| | |
| --- | --- |
| | Product support |
Warranty Lifetime - online registration required
Support Lifetime: Web, Email and Phone Support from fully qualified, friendly staff who work in and alongside the Product Development Team
| | |
| --- | --- |
| | Approvals |
Industry Approvals: CCC-Mark, C-Tick, Microsoft Certified Gold Partner, WEEE, RoHS, METL
Microsoft Approvals: AEO (C-TPAT)
Microsoft Signed Drivers: Windows Vista / 7 / 8 / Windows Server 2008
| | |
| --- | --- |
| | Typical applications |
Interfacing any industrial control process to Ethernet
Interfacing legacy control equipment to Ethernet