Established in 1984, Brainboxes is one of the leading Serial communication and data acquisition device developers and manufacturers in the World.

Headquartered in Liverpool, UK, it has a team of highly qualified software and hardware designers, matched by a world-class in-house, volume manufacturing facility and a global distribution chain. Substantial investments in R&D and manufacturing have gained us a reputation for products that are easy to use, highly configurable and extremely reliable. Our in-house manufacturing facility gives us an unparalleled level of flexibility and control to meet even the tightest deadlines.

Brainboxes mission is to provide innovative data communication products to ensure customers can Connect, Configure and Control their serial and industrial devices. Using advanced design and manufacturing techniques we won the Manufacturing Institutes "Manufacturer of the Year Award 2007" and prestigious European Electronics Industry Awards, "Manufacturer of the Year 2005". Exceptional quality and reliability from Lean Six Sigma manufacturing processes have enabled Brainboxes to offer customers a lifetime warranty and free technical support for all serial products.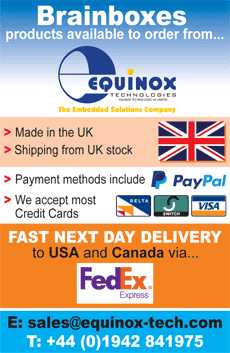 Contact Details
Brainboxes Ltd.
18 Hurricane Drive
Liverpool International Business Park
Speke
Liverpool
L24 8RL


WebSite: www.brainboxes.com