| | | |
| --- | --- | --- |
| | Ethernet to Digital IO (DIO) Module - 8 x Digital IO (DIO) Lines | |
The ED-008 is an Ethernet to Digital (DIO) module featuring 8 x digital input/output (DIO) channels. It has been specially designed to support switching of equipment and / or monitoring of input signals over an Ethernet network. It is suitable for commercial or light industrial use.  
| | |
| --- | --- |
| | Main features |
8 x Digital Inputs / Output (DIO) channels
Outputs are capable of driving high current and high voltage loads - ideal for inductive, capacitive and resistive loads
Designed for Factory floor process control and automation
Offers robust and intelligent 'control side' device
The device installs as a COM Port on the PC to give complete backwards compatibility essential for legacy applications.
User friendly software interface, Legacy compatible
0°C to +60°C Temperature range
Wall mountable
| | |
| --- | --- |
| | IO Channels |
Description: 8 Digital Inputs/Outputs
Digital Inputs: 8
Logic Level 0: 0V to +1V
Logic Level 1: +3.5V to +30V
Latched Inputs: Triggered by user programmable positive or negative edges, stays true until acknowledged
Counter Inputs: User progammable- counts positive or negative transitions up to 100Hz
Watchdog: Active high/low, Pulsed high/low
Digital Outputs: 8
Digital Output Type: Open drain transistor, protected MosFET. Short circuit protection up to 36V. Over temperature shutdown -175°C typical 150°C min
Maximum Output Load Voltage: 30 VDC, 250 VAC
Maximum Output Current Sink: 5.0A per channel
| | |
| --- | --- |
| | Typical applications |
Designed for Factory floor process control and automation
Suitable for control and switching of AC and DC motors, Fans, relay drivers, pumps, Voltage Regulators and Battery Chargers, LEDs and Bulbs, Air Conditioning, Heaters and Solenoids.
Capable of monitoring any input eg. switches, on/off sensors etc in a factory or production environment.
Ethernet to Digital IO (DIO) Module - 8 x Digital IO (DIO) Lines


The Brainboxes ED-008 is an Ethernet to Digital IO (DIO) Module featuring 8 Digital Inputs/Outputs. It is designed for use in commercial / light industrial applications.




| | |
| --- | --- |
| Quantity | Price (GBP) [Excl. VAT] |
| 1 and above | 99.00 |


Availability:
0 in stock
5 days delivery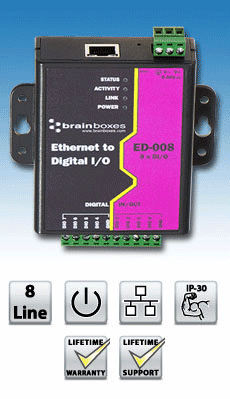 Product Information
Ethernet to Digital IO (DIO) Module - 8 x Digital IO (DIO) Lines
Brainboxes
BRAIN-ED-008
0 in stock
5 days delivery

99.00 (GBP)


[Excl. VAT]