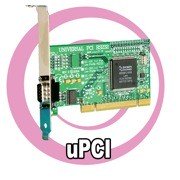 PCI slots, introduced in the early 1990's, are now being replaced by the new PCI Express slots. Our PCI cards, being compatible with both 5V and 3.3V slots, are universal PCI cards: uPCI.
Brainboxes manufacture an extensive range of PCI cards with 1 to 8 ports, RS232 or RS422/485, low profile or standard height, and with or without cables.
PCI cards are plug & play, fit internally to the PC and give the most secure add on solution for permanent installations.