| | |
| --- | --- |
| | Overview |
Programmer for In-System Programming (ISP) of Freescale HC(S)12 Microcontrollers
Supports programming of FLASH and EEPROM areas of Target Device
Powerful PC Driver Software - StarProg
| | |
| --- | --- |
| | ISP (BDM) Interface |
Connects to BDM (Background Debug Mode) Port of Target Device
Programmer is connected to the target board using a ribbon cable with a BDM12 6-pin header connector as defined by Motorola.
Power supply for the pod also comes over this connection from the target board
| | |
| --- | --- |
| | StarProg - PC Interface Software |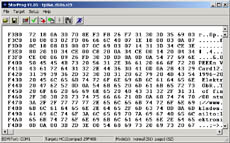 The StarProg Software is a simple IDE which allows the user to control the operation of the COMPOD Programmer from the PC. The user simply selects a specific Target Chip e.g. "MC9S12D64 internal Flash" from the software and can then perform Blank Check, Erase and Read / Write operation on this chip. The program can read Motorola S-Record or binary files.
| | |
| --- | --- |
| | Flexible Tool Files |
The methods for programming the target memory are not built into the StarProg Software in a fixed, unalterable way. Instead of a static implementation, the algorithms are contained in separate Tool Files. This is the key to the unbeatable flexibility of StarProg! Even future HC(S)12 derivatives can easily be implemented as soon as silicon becomes available, just by adding the appropriate Tool File.
| | |
| --- | --- |
| | StarProg for Production |
The special Production Mode (Blank/Program/Verify as an endless loop) of StarProg helps you to efficiently produce larger quantities of HC12 products.
| | |
| --- | --- |
| | PRO-Version provides extra features |
The ComPOD12/PRO BDM-Interface provides all features of the standard version, plus a number of powerful extensions:
Higher RS232 interface speed: 115200 Baud
PC-connection via USB as an option (please add part number KABELUSB to your order)
Support of variable clock rates: 1, 2, 4 or 8 MHz
BDM-clock selectable (equals 2, 4, 8 or 16 MHz oscillator clock)
Advanced Reset-Sequencing (tolerating non-standard reset controllers)
Secure- and Unsecure-Function for HCS12 Controllers
Integrated update function allows replacement of Pod-Firmware
Attractive bundle pricing with NoICE12 Source Level Debugger
| | |
| --- | --- |
| | ComPOD12 - Next Generation |
Our latest pod generation ComPOD12/NG provides the following advantages over the PRO version:
Support of Low-Voltage HCS12 types (VCC=3..5V)
Faster data transfer
BDM-clock continuously adjustable between 250kHz and 40MHz!