| | | |
| --- | --- | --- |
| | TRP-C34 - Ethernet to 4 port RS-232/422/485 Serial Converter | |
The TRP-C34 is a fast 4-port serial to Ethernet converter. It is designed to convert serial data from any of 4 x RS-232 / RS422 / RS485 ports to a 10/100Mbps Ethernet network running using the TCP/IP protocol. This provides a straightforward method of connecting up to 4 x remote serial peripherals eg. sensors, serial printers etc to an Ethernet network and then allows data to be read from / sent to these remote peripherals by sending data from a single PC other the Ethernet network. Typical applications include remote monitoring of serial sensors / transducers in factory control systems.
The TRP-C34 device can be operated via Windows, Linux and UNIX without the need to modify existing software. The TRP-C34 is capable of operating in "Direct IP Mode", "Virtual COM Mode", and "Paired Mode" making it very versatile and suitable for most serial networking applications. It also offers a Heart Beat feature to ensure a reliable communicating connection. The TRP-C34 will work with 'Loop back Mode' where all data is sent back immediately. This feature makes the connection testing easy.
The industry standard DIN rail design enables fast and professional installation.
This product does NOT come with a serial cable or power supply. These items should be purchased separately.
| | |
| --- | --- |
| | Product Picture |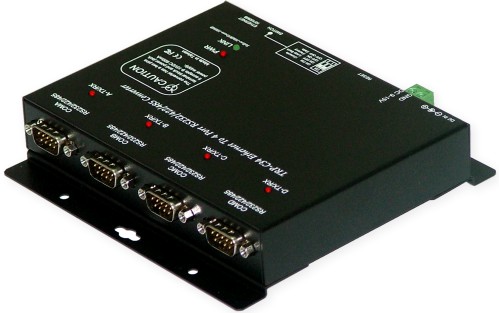 | | |
| --- | --- |
| | Specifications |
CPU: RDC 80186
System memory: 1MB Byte
SDRAM: 1MB Byte
Flash: 256KB
Serial Memory: output: 32K bytes per port
Power Input Voltage: DC +10V to +15V
LAN: 10/100 Mbps Auto-detecting – 10/100Base T
Serial interface: 4 ports (COMA, COMB, COMC, COMD.)
RS-232: TX, RX, RTS, CTS, DTR, DSR, DCD, GND
RS-422: TX+,TX-,RX+,RX-,RTS+,RTS-,CTS+,CTS-,GND
RS-485: Data +, Data –, GND
Data rate: 110 bps to 230.4 k bps
Parity: none, even, odd, mark, space
Data Bits: 5, 6, 7 or 8
Stop Bits: 1, 1.5 or 2
Protocol: TCP, IP, ARP, DHCP, Telnet, HTTP, UDP, ICMP
Power supply: Screw terminal, or standard external DC adapter
Power consumption: 12V/450mA
Operating Temperature: 0 to 60 degrees
Storage Temperature: -20 to 70 degrees
Humidity: 10~90% Non-Condensing
Dimensions: 157mm X 148mm X 26mm
Weight: 638g
| | |
| --- | --- |
| | Features |
DIN rail or Panel mount support
4 X RS-232/422/485 all-in-one serial interface
Auto-detecting 10/100Mbps Ethernet interface
In Server mode supports individual client sessions for security
Virtual COM drivers for Windows98/Me/NT/2000/XP
Auto direction flow control on RS-485
Provide with +/- 15KV ESD protection on RS-232/422/485 signals
Supported baud rate up to 230.4 Kbps
Power/Link/COMACOMB/COMC/COMD flow mode LED
indicators
Support intranet and internet system setting function
Support screw terminal and standard external DC power adaptor
| | |
| --- | --- |
| | Operating Modes |
The TRP-38 supports the following methods of mapping 'Serial RS-232 Data' to 'Ethernet Data':
"Direct IP Mode" - a selected remote RS-232 port is mapped to a specified TCP/IP address
"Virtual COM Mode" - a individual 'Virtual COM Port (VCP) is created for each remote RS-232 port
"Paired Mode" - allows two TRP-38 devices to be paired together with one as a MASTER and the other as a SLAVE. No PC is then required.
TRP-C34 - Ethernet to 4 port RS-232/422/485 Serial Converter


The TRP-C34 is a fast 4-port serial to Ethernet device designed to instantly convert data from RS-232/422/485 interfaces to a 10/100Mbps Ethernet network running at the TCP/IP protocol.




| | |
| --- | --- |
| Quantity | Price (GBP) [Excl. VAT] |
| 1 - 3 | |
| 4 - 9 | |
| 10 and above | |


Product Information
TRP-C34 - Ethernet to 4 port RS-232/422/485 Serial Converter
Trycom Technology
TRP-C34
1 in stock

214.67 (GBP)


[Excl. VAT]