| | | |
| --- | --- | --- |
| | Phyton ChipProg-G4 - Universal 4-channel Gang Programmer for Manufacturing | |
The Phyton ChipProg-G4 is powerful 4-channel production gang programmer suitable for medium to high volume off-board production programming. It features 4 x independent programming modules allowing it to program  4 ICs simulataneously. The 4 x high-quality 48-pin ZIF sockets support insertion of any DIL device up to 48 pins. A range of Socket Adaptors is available to suit most other package types.  
The ChipProg-G4 programmer is based on 4 x Phyton ChipProg-48 programmers working concurrently and so provides very fast programming. It supports parallel & serial EPROM & EEPROM; microcontrollers, and PAL/PALCE/GAL/PEEL/PLD devices.
The ChipProg-G4 programmer is controlled via a single USB port to a PC. The powerful PC software supports sequencing of all 4 programming sites.
| | |
| --- | --- |
| | Product picture |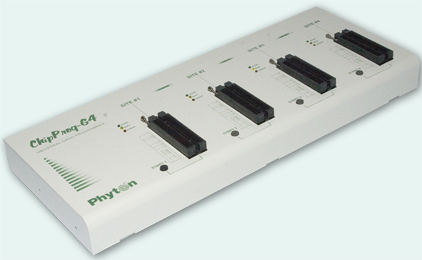 | | |
| --- | --- |
| | Features |
Powerful 4-channel gang production programming solution for off-board IC programming
Suitable for medium to high volume off-board production programming applications
Supports programming of 30,000+ devices
Device support includes parallel & serial EPROM & EEPROM; microcontrollers and PAL/PALCE/GAL/PEEL/PLD devices
Programs all DIP-packed device from 6 to 48 pin via 48-pin pin ZIF DIP sockets - no additional adapters are required
Optional adapters for programming devices in PLCC, SOIC, SSOP, QFP, BGA, QFN, SON and other packages are available
Provides very fast operations - programs a 64 MBit NOR flash memory device for less than 50 sec
Supports in-system programming for the devices allowing the ISP (ICP) mode via special cables-adapters
Communicates to a PC via a single USB 2.0 compatible port
Very fast programming as it is based on four independently operating 'Programming Module' each with its own microcontroller and FPGA
Each site has its own 'Start' button for fast manual operations programmable to execute a single operation or a batch of them
Advanced self-diagnostic start-up routine that check the target device reliable contact in the programming socket
Incorrect device insertion check and overcurrent protection; automatically detects bad contacts before starting any operation
Lifetime free software updates via Web
Features a built-in universal 110-240VAC power adapter; US, European, UK and Australian power cables are available
CE and RoHS compliant
| | |
| --- | --- |
| | 4-channel gang programming |
The ChipProg-G4 programmer features 4 completely independent 'Programming Modules' which are networked back to a controlling PC via a high-speed USB link. This allows the G4 to program 4 devices simultaneouly with either the same or different data. It also means that there is loading between the channels and a problem with an IC on one channel will not affect a device on another channel.
Completely independent Programming Module per channel
All power, Vpp and signal connections are independent per channel
Independent PASS / BUSY / FAIL indicators per channel
A 'START' switch on each channel can be used to manually start a selected channel.
If one IC fails to program, this does not affect the other programming channels
In case of a problem, a complete channel can be swapped out with a new Programming Module.
| | |
| --- | --- |
| | 48-pin ZIF Socket |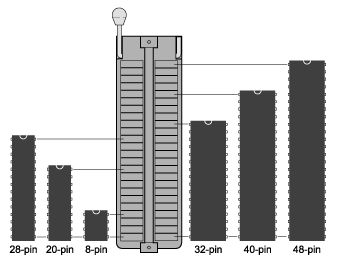 The ChipProg-G4 programmer features a 48-pin DIL (Dual-In-Line) ZIF (Zero Insertion Force) socket with 48 independent pin-drivers. The 48-pin ZIF socket allows the programmer to support many more devices than the more traditional 40-pin programmers on the market including high-density FLASH and EEPROM Memory devices which are common in 48-pin TSOP packages. Many of the more recent high-integration microcontrollers also require more than 40pins for programming. A suitable Package Adaptor is required to convert the package of the target chip to the DIL equivalent. 
| | |
| --- | --- |
| | Device Support Overview |

The ChipProg-G4 programmer supports a wide range of programmable ICs including:
Microcontrollers: 8051, PIC, AVR, XMEGA, ARM, MSP430 etc
Parallel EEPROM Memories
Serial EEPROM Memories
PAL/PALCE/GAL/PEEL/PLD devices
In-System Programmable microcontrollers using additional ISP cable
The device support is updated regularly but Phyton cannot guarantee to add all new devices.
| | |
| --- | --- |
| | Optional Socket Adaptors |
A comprehensive range of production quality Socket Adaptors is available for the ChipProg-G4 programmer to support many different package types including:
PSOP, TSOP
TQFP, PQFP
SOP, SOIC
BGA, PBGA
ISP
Many adaptors are available as either a "Clamshell" version or a "Open-top Push-type" adaptor.
| | |
| --- | --- |
| | Powerful PC Driver Software |
The ChipProg-G4 programmer is controlled by a powerful software utility running on the PC. This utility controls / sequences all 4 programming channels allowing for efficient production programming.
Software features:
PC software works under control of Windows 9x/2000/NT/XP/Vista
All 4 x Programming Modules controlled via a single USB 2.0 interface to the PC
Easy-to-use and intuitive user interface
Supports loading files of all popular formats: Intel HEX, Binary, Motorola S-format, POF, JEDEC, PRG, ASCII Hex & Octal, etc.
Built-in editor supports sophisticated operations with blocks
Vpp and other parameters precise adjustment via the software settings
Splits files to multiple images
Embedded script language for automation of routine operations
Serialization of the programmed devices by writing a serial number into a specified target memory location
Calculation of the control sum with capability to write it into a specified target memory location
A unique signature can be written into a specified target memory location
| | |
| --- | --- |
| | Technical specifications |
Number of programming sockets: 4
PC Interface: USB 2.0
ZIF Socket: 48-pin DIL
Built-in microcontroller, Fclk: Yes, 32-bit, 60 MHz
Built-in FPGA, Fclk: Yes, up to 100 MHz
Logical pin drivers: Universal, 1.8V to 5.5V
Analog drivers: Can drive any pin, 10-bit DAC
Adjustability of the write impulses edges' slopes: Yes
Capability to support new target devices: Unlimited
In-system programming capability: Yes - with additional cables
Chip insertion auto detect capability: Yes
Project management by the software shell: Yes
Serialization of the programmed devices: Yes
Writing signatures into the programmed devices: Yes
Logging programming sessions to files: Yes
Host computer and operation system: IBM PC, Windows
2000 / XP / Vista
Power Supply input: 110-240VAC mains via IEC plug / cable
Dimensions: 435 x175 x 45 mm (17x7x1¾ inch)
| | |
| --- | --- |
| | Approvals |
CE compliant
FCC compliant
RoHS compliant
| | | |
| --- | --- | --- |
| | Device Support (by family) | |
This product supports devices from the families listed below:
Please note:
Not all devices may be supported within a family.
Please see the Detailed Device Support List for a list of all devices which the product supports.
This product has been discontinued. Please refer to the Replacement Product instead: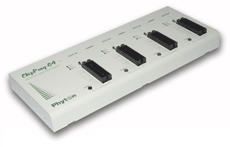 Product Information
Phyton ChipProg-G4 - Universal 4-channel Gang Programmer for Manufacturing
Phyton
PHY-CHIPPROG-G4
1695674
0 in stock
10 days delivery

1,995.00 (GBP)


[Excl. VAT]