| | | |
| --- | --- | --- |
| | Frequently Asked Questions (FAQ): | |
| | |
| --- | --- |
| | What is an ISP Header ? |
An 'ISP Header' is the connector used to interface the cable which carries the programming signals from an external ISP Programmer to the Target System Circuit Board / Microcontroller. The programming signals are routed via the ISP Header to the Target Device on the Target System Circuit Board. 
The header is usually in the form of  either a 6-way or 10-way IDC 'box header' with 2 rows of pins on a 0.1" pitch. However, it can also be a Single-in-Line SIL Pin Header or in fact any form of custom connector.
| | |
| --- | --- |
| | What is an 'IDC Box Header' ? |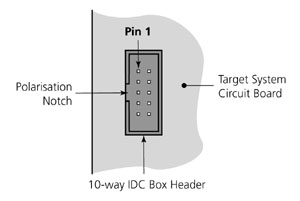 An 'IDC Box Header' is an off-the-shelf connector which interfaces to a mating IDC In-Line Plug connector on the end of a ribbon cable. The connector is made up of either 2 rows of 3 pins (6-way) or 2 rows of 5 pins (10-way) with 0.1" spacing between each pin. The term 'Box Header' is used as this type of connector features a plastic shroud (box) around the entire connector with a 'polarisation notch' which prevents the mating 'ISP Cable' from being accidentally plugged in the wrong way around. 
| | |
| --- | --- |
| | What versions of the ISP Header are available ? |
Equinox programmers currently support the following 'ISP Headers':
10-way Atmel SPI pin-out
10-way Equinox pin-out
6-way Atmel SPI pin-out
10-way Atmel - ATmega JTAG pin-out
10-way Equinox - ATtiny HV pin-out
Atmel / Philips 89C51Rx2 / 66x - UART Boot Loader pin-out
20-way ARM JTAG Debug pin-out (using special connector cable)
Please see the 'Supported ISP Headers' section for further details of each of these pin-outs.