| | | |
| --- | --- | --- |
| | ISP-PRO V4 Production Software Suite - License Upgrade for Equinox programmers | |
The 'ISP-PRO' software suite is a dedicated Windows application which is used to control Equinox ISP programmers in a production programming environment. The software is capable of controlling up to 32 asynchronous programming channels from a single PC COM port. 'ISP-PRO' can be run as a completely self-contained standalone application where each programming channel is sequenced in real-time via a specially compiled 'Programming Script'. It can also be run as a 'Slave application' where it is controlled by an external 'Remote Application'.
The software features an 'Interface Database' which allows each programming channel to be independently controlled from a custom Remote Application written in eg. Labview, Visual Basic, C++. The results of every programming operation are logged to this database giving a full history of exactly what happened and when.
| | |
| --- | --- |
| | Standard Features |







| | |
| --- | --- |
| | Supported programmers |
  
Click on the picture of a programmer to view the full programmer description page.

| | |
| --- | --- |
| | Gang Programming Operation |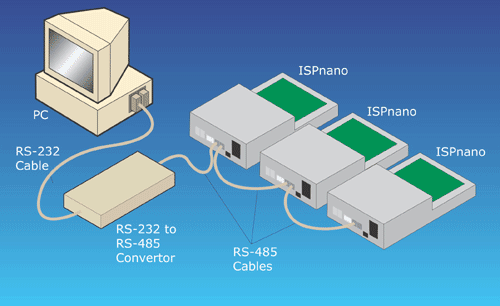 Up to

32

x '

ISPnano

Programming

Modules' can be networked together to a single PC

via

an

RS-485

bus

Each

'

ISPnano

Programming

Modules'

is capable of asynchronously programming a Target

Device

(i.e. all programmers operate independently)

Each programmer is given a unique 'Communications

Address'

An

RS-232 to RS-485 convertor is required to interface the PPM4's to the PC RS-232 port

The programmers are all controlled via the ISP-PRO or

ConsoleEDS

utilities running on the

Supervisor PC
| | |
| --- | --- |
| | Control Methods |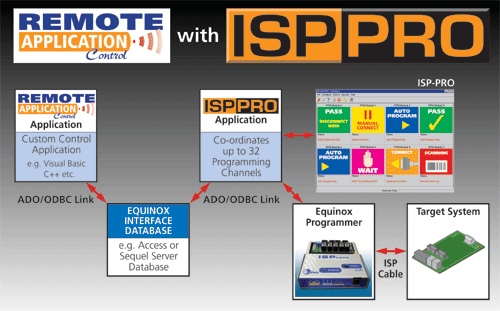 A

custom Remote Application written in e.g. Visual Basic, C++, c#, Delphi can control up to 32 programmers concurrently

Supports

remote 'Programming Script' selection &

execution

Supports

writing / reading of unique data such as serial numbers, MAC addresses and calibration data

Every

programming operation is logged to a database (records PASS / FAIL, diagnostics etc per board)

Supports

Barcode Scanning of label on Target System + programming of relevant serial number
ISP-PRO V3 & V4 Upgrade to Version 5


ISP-PRO V3 & V4 Upgrade to Version 5 for the ISPnano programmer




| | |
| --- | --- |
| Quantity | Price (GBP) [Excl. VAT] |
| 1 - 3 | |
| 4 - 9 | |
| 10 and above | |


Availability:
0 in stock
7 days delivery

ISP-PRO V3 to V4 Upgrade for ISPnano programmer


ISP-PRO V3 to V4 Upgrade for ISPnano programmer




| | |
| --- | --- |
| Quantity | Price (GBP) [Excl. VAT] |
| 1 - 3 | |
| 4 - 9 | |
| 10 and above | |


Availability:
20 in stock

ISPnano - ISP-PRO Version 4 - Run-Time License


This is a license upgrade to allow the ISP-PRO Version 4 application to run on an ISPnano programmer. This is the run-time license only. It does not support generation of the ISP-PRO scripts.




| | |
| --- | --- |
| Quantity | Price (GBP) [Excl. VAT] |
| 1 - 3 | |
| 4 - 9 | |
| 10 and above | |


Availability:
0 in stock
7 days delivery

ISPnano - ISP-PRO Version 5 - Run-Time License


This is a license upgrade to allow the ISP-PRO Version 5 application to run on an ISPnano programmer. This is the run-time license only. It does not support generation of the ISP-PRO scripts.




| | |
| --- | --- |
| Quantity | Price (GBP) [Excl. VAT] |
| 1 - 3 | |
| 4 - 9 | |
| 10 and above | |


Availability:
0 in stock
7 days delivery