| | |
| --- | --- |
| | Main Features |
The FS2009(ARM) programmer main features are:
Portable In-System (ISP) Programmer
Ideal for Development, Production or Field use
Supports In-System Programming (ISP) of Atmel AT91SAM7, NXP LPC17xx / LPC2xxxx, ST STM32 ARM microcontroller families via the JTAG programming interface
Supports 'Standalone' operation i.e. no PC required after programmer has been configured
Very fast programming speeds suitable for high-throughput production environments
Up to 64 individual Programming Projects can be uploaded to the non-volatile On-board FLASH Store (4 Mbytes).
Robust I/O driver stage
Individually configurable programmer I/O pins
Programmable frequency generator output on SCK2 pin - supports external clocking of ATmega, and ATtiny AVR devices to speed up programming
Programmer firmware is field upgradeable to cater for future algorithms
CE / FCC / RoHS approved product
| | |
| --- | --- |
| | Supported Programmer Control Methods |
The programmer supports the following control methods:
Standalone Mode - Keypad and LCD controlled (no PC)
EDS - Development Mode
Project Builder - to create / edit 'Standalone Programming Projects'
Project Manager - to create and maintain Project Collections
Upload Wizard - to upload projects to the programmer for use in Standalone Mode
| | |
| --- | --- |
| | Standalone Programming Mode |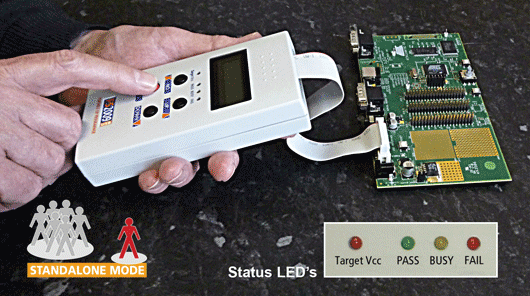 In 'Standalone Mode', the FS2009USB is controlled via the push buttons on the front panel of the programmer - no PC connection is required. The programmer LCD and the LED Status Indicators are used to display the current status of the programmer. It is possible to select from 1 of 64 previously uploaded Programming Projects and then to repeatedly execute this project to program a batch of devices.
In Standalone Mode...
Programmer is completely portable as no PC connection is required
Programmer supports storage up to 64 independent Programming Projects in the non-volatile On-board 4Mbits FLASH Memory Store .
The operator simply selects the required project using LCD and keypad
Each project name is version controlled showing the project name, date, firmware revision and build date. e.g. myproject-240402-2.3.4.12
Single key auto-program mode
Simple PASS / FAIL response with diagnostics on program failure
Operator can not inadvertently change the programming data or settings
To configure the programmer for Standalone Mode...
A Project Collection containing 1 - 64 Programming Projects must be uploaded on a one-off basis to the programmer using the EQTools PC software
This is a single file which can be easily distributed to remote sites. It contains all projects, Hex File data, Fuse information etc.
| | |
| --- | --- |
| | Development Mode |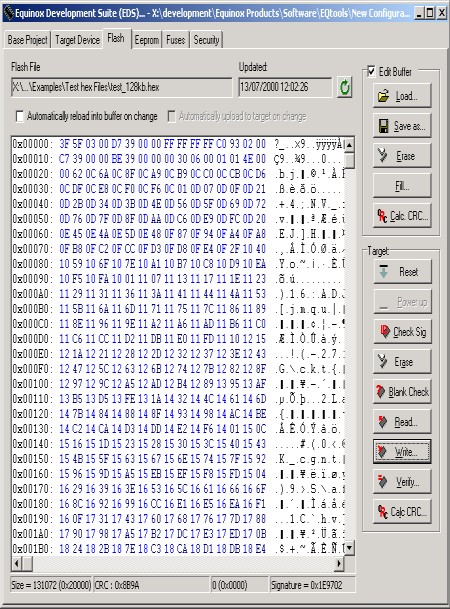 Programmer is controlled from the PC via EQTools - Equinox Development Suite (EDS) Software

Ideal for use in a Development Environment

Supports manual writing / reading of FLASH / EEPROM memory areas

Supports manual writing / reading of Fuses and Security Fuses

All projects can be developed and tested on a real device before uploading a Programming Project to the programmer

Tested Programming Projects can then be uploaded to the Programmer for use in Standalone Mode
| | |
| --- | --- |
| | Project Upload Mode |
This mode allows a pre-compile Project Collection to be uploaded to the on-board 'FLASH Memory Store'.
The programmer can store up to 32 MBits of Project Information which is held indefinitely in non-volatile FLASH Memory.
It is possible to upload up to 64 Programming Projects to the programmer, each of which can be for a different target device.
A simple 'Upload Wizard' allows field personnel to upload single or multiple Programming Projects as part of Project Collections.

| | |
| --- | --- |
| | ARM - ISP Connector / Header Support |
The FS2009USB(ARM) programmer comes with a 20-way ARM programming cable as standard - see illustration above.
A 10-way ARM programming cable is available as an optional extra.
Please refer to the ISP Header Overview page for full details of all available ISP Headers and ISP Cables.
| | |
| --- | --- |
| | Programmer / Target System - Power Supply Options |
The Programmer supports the following powering options:
Target System can supply power to the programmer: 3.0 - 5.0V @ 50mA
Programmer can supply power to the Target System: 5.0V @ 300mA
Programmer and Target System can be Independently Powered
The Programmer comes with a 9V DC Power Supply which is regulated down to +5.0V inside the programmer.
| | |
| --- | --- |
| | Fast Programming Times |

The FS2009USB supports fast programming of Target Devices via the SPI, JTAG and UART algorithms.
| | |
| --- | --- |
| | Standalone Mode - Program -> Test -> Re-Program |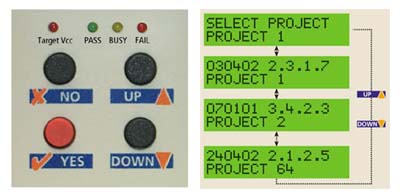 The programmer is capable of performing a multi-project Programming Sequence in Standalone Mode as follows:
Program Test Firmware
Execute Target Firmware
Wait for Target Firmware to finish
Program Production Firmware
This powerful functionality allows the programmer to be used as part of an In-Circuit Test procedure where the Target Firmware must be allowed to execute in order to eg. calculate some calibration values. The programmer initially programs some 'Test Firmware' into the Target Device and then allows the Target to run this firmware and waits for this firmware to finish executing. The real 'Production Firmware' is then programmed into the Target Device.
| | |
| --- | --- |
| | Typical applications |
Field programming - supports up to 64 different customer firmware / product versions
Low to medium volume production programming
Re-programming of batches in production
| | |
| --- | --- |
| | Configurable Frequency Output Clock |
The FS2009USB is capable of outputting a continuous square wave at various frequencies on the programmer SCK2 pin.
This clock frequncy could be used for the following purposes:
To toggle the STROBE pin on a Watchdog Timer IC to stop the IC from timing out during the In-System Programming operation.
To provide a clock to an Atmel ATmega microcontroller to resurrect a device which has an incorrectly configured Internal Oscillator.
| | |
| --- | --- |
| | CE / FCC Approved Product |
The FS2009USB is a CE / FCC and RoHS approved product.